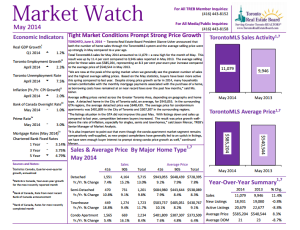 The prices of homes in Toronto have increased more than 10% since January 2014 up to today and the market is HOT.
Properties are being sold in few days and it is very much a Seller's market this spring.  The listings situation did not improve in May, we continue to have lack of inventory and it is not surprising to receive multiple offers on properties. With listings down and sales up compared to last year, competition between buyers has increased.
A detached home in the City of Toronto sold, on average, for $943,055. In the surrounding GTA regions, the average detached price was $648,439. The average price for condominium apartments was $401,809 in the City of Toronto and $307,307 in the surrounding regions.
See the full report for Real Estate Market – Toronto in May 2014 here: