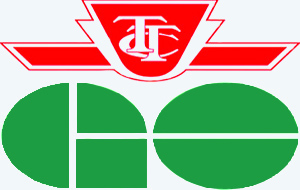 Most Canadians drive or ride in cars, vans, or buses to get where they want to and need to go. There are many forms of transportation in the city of Toronto. Within the city, the TTC operates an extensive system of Subways, Buses and Streetcars that are heavily used by people who live in or near the city. Here are few links to help you figure out how to navigate the resources and help you get to and from your new home's location.
The Toronto Transit Commission (TTC) is the quick, convenient and safe way to get around Toronto. The subway system is linked with buses and streetcars to get you around Toronto on one fare, provided it's a one-way trip with no stopovers. You can travel on the TTC every day.
Toronto Pearson International Airport (TPIA) began operating in 1939 when it was known as Malton Airport. TPIA has grown to become Canada's biggest and busiest airport, and the 25th busiest airport in the world (based on passenger traffic/cargo volume in 1998).
The York Region Transit (YRT) web site is a helpful tool for customers, full of information on bus routes, schedules, fares and much more.
Durham Region Transit (DRT) is an integrated transit system serving all communities in Durham Region. The service area is divided into West, East, Centre and North service sectors. Door to door transit for disabled passengers is provided by Specialized Services.
GO Transit is Canada's first, and Ontario's only, interregional public transit system, established to link Toronto with the surrounding regions of the Greater Toronto Area (GTA). GO Transit carries 44 million passengers a year in an extensive network of train and bus services that is one of North America's premier transportation systems.
Imagine being able to receive a detailed trip itinerary that tells you where and what time to catch your bus, where to get off and transfer, how long your trip will take, walking directions – even schedules for over 3000 bus stops.
The Toronto City Centre Airport is located on the doorsteps of Toronto's business and financial centre and the city's thriving commercial, industrial and residential core. Its proximity to downtown Toronto is the main reason business travellers prefer to fly through TCCA. Go to Toronto Island Airport website.
Wherever life takes you. Just a quick click is all it takes to locate routes and schedules, fares or news about the Brampton Transit system.
Toronto Buttonville Airport is ranked as one of the top ten airports in Canada, employing over 300 people from the environs and housing over 300 aircraft for local residents, businesses and its own aircraft services.